Discover more from The Feelings Union with Lisa M. O'Neill
Navigating Big Feelings in a Big World
The Space Between
We are always in a liminal space, even when, at times, this is more visible and clear than others.
Last summer, I taught a class on liminal spaces. It was an intimate nonfiction writing workshop called Writing the Liminal: Making Meaning In the In-Betweens. In that course, we read texts that examined inhabiting the liminal in physical, emotional, psychic, and metaphorical ways. We wrote about our bodies, our relationships, and the landscapes we occupied. We acknowledged that we no longer were the same people we were before the pandemic began but we also didn't entirely know who we are now or who we would be—as individuals, as communities, or as a global collective. We sat in conversation at the forks at the road and generated our questions for the future as a community. 
Liminal spaces are beautiful–theoretically. I could talk to you for hours about thresholds and the time suspended in air mid-leap and the magic that can happen there. I could tell you about all the liminal spaces I've navigated in my own life. I could spin you some lovely descriptions about what it means to be inside the in-betweens. Liminal spaces are beautiful–in practice. They are also terrifying, messy, emotionally grueling, sometimes isolating, and they require a constant reckoning with the unknown.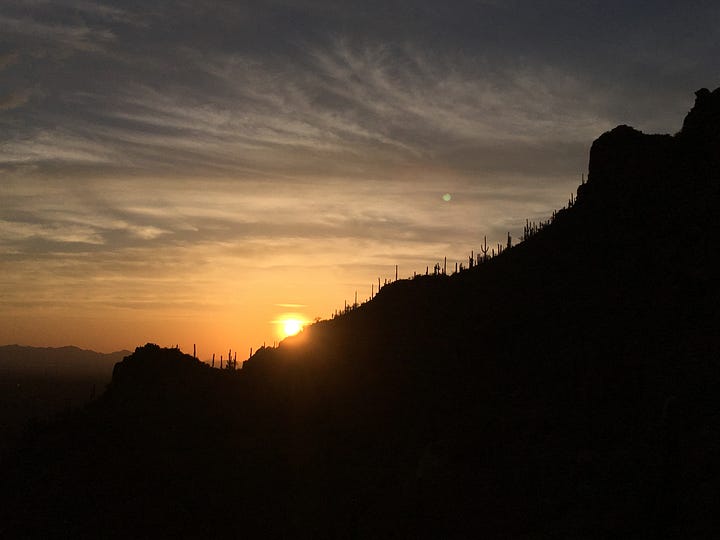 Last summer, I was in the liminal space we shared as a collective. I had been fully vaccinated but also COVID-19 was (as it continues to be) a serious threat. Lives and long-term health were at stake. Spaces were opening up after years of being shut down. Musicians were again touring. Bars crowded with people. Many of us were flying for the first time in years. People stopped wearing masks as regularly and then, for many, they stopped entirely. 
There was a return to a beforetimes normalcy that, to me, felt both familiar and disturbing: 
Had we learned nothing? 
Had all the dynamic ways we had to shift our lives already fallen away in favor of a return to a lifestyle that was proved to be deeply unsustainable? 
Could we so easily disassemble the hard-won understanding of the value of community care? 
Could we shake off the inner knowing that we must care for everyone, including our elders and our immunocompromised neighbors? 
Were we not going to take any lessons from the time about ableism and time and capitalism and climate change and the need to do things radically different than before?
This summer, in addition to our collective ones, I find myself in a personal liminal space–mid-air between knowns and unknowns. In this place of suspension, I am trying to be inside the space without rushing to fill it. I know the space itself has something to teach me. And that there is wisdom here, if I choose to listen. 
Years ago, I read Sailing Home by author and Buddhist teacher Norman Fischer. In the book, he uses The Odyssey as a vessel to explore Buddhist dharma. I have been practicing Buddhism for twelve years and loving mythology since I was a kid so this book was, definitively, my jam. 
My favorite chapter was entitled "On the Threshold." I remember where I was when I read it. I was sitting at a wooden picnic table on Mount Lemmon, high above the city of Tucson, Arizona, my then-home. I was surrounded by pine trees, this space so different than the desert below, this cool air, even in summer, when I read (and underlined: I am rarely without a pencil when reading) this:
"One form of threshing or thrashing is treading, stomping, hence threshold, the stone or board at the entrance to the house on which you must tread in order to go from outside to inside or inside to outside. When you are on the threshold, you are poised to go in or out. You are, as we say, on the threshold of something." 
Then he retells a Zen fable I return to constantly. Fischer writes, "Master Wuzu said, 'It's like a water buffalo climbing through a window. The head, horns, and legs all pass through. Why can't the tail pass through?'" 
Why can't it pass through? That is a real question. Because here, you see, Master Wuzu is not saying that the tail is stuck by the window–that the window has suddenly come down and rendered the buffalo's tail trapped. The window is open. And he cannot pass through. All the biggest parts of his body passed through easily and his tail, the smallest part, cannot. 
Fischer goes on to say that "the water buffalo symbolizes the mind or heart, that is, human consciousness, the seat of our spirituality, of our inner life." 
Sometimes we choose to cross the threshold and sometimes the crossing is chosen for us. And sometimes, when the rest of us is able to inhabit the crossing, some small part resists.
There is the letting go that happens just by nature of being in a liminal space. Beyond this, there is the letting go that happens when we acknowledge that we are there and allow ourselves to be there fully. As Buddhist teacher and author Pema Chödrön says often, "there is no ground." 
How often are we grasping for ground that does not exist? How often do we try to hold on to nothing but air? Our life, our selves, the foundations we consider permanent, they are all mutable. As Heraclitus said, "The only constant is change." (Although, let's be real, I'm sure someone said this before him and we know many have said it, in other iterations, after; we are all, in different times, spurred to come to the same realizations about ourselves and what it means to be human and mortal in this world). 
We are always in a liminal space, even when, at times, this is more visible and clear than others. 
I sat down to write today because writing is one thing that always allows me access to myself, even in the midst of an ever-changing body, mind, and soul navigating an ever-changing world. Writing doesn't make things better, or even completely known, but it does allow for the messiness to take some shape. Writing allows me to make sense in the moment of things that feel very elusive and hard and unknowable. The words stitched together form some kind of garment, a temporary one to wear until I need a different size or am approaching a different season. 
How do I now tie up in a bow a piece that is about no resolution and staying inside the unknown? 
Impossible. 
But maybe this is an ending. There is no bow, there is only ribbon. There is no inside or outside, only the window ushering us through. There is no space that isn't a space between. What if sitting in the space, with all our questions and all our unknowns, is enough? 
- - - - - - - - - - - - - - - - - - - - - - - - - - - - - - - - - - - - - - - - - - - - - - - - - - - - -
p.s. Happy Eve of Solstice, another liminal time to be sure. May the heat of the sun burn off all the stories that no longer serve and obstacles in your way. May the light of the sun reflect off of you and illuminate your path. May the rain that falls water your garden quench your thirst so that, in the light of the sun's rays, you maygrow and grow and grow.
Thanks for reading The Feelings Union with Lisa M. O'Neill! Subscribe for free to receive new posts and support my work.